Golf coaching is all about you and what you want to get out of your game. Head Professional David Park has dedicated his career to continuing to develop his coaching knowledge and prides himself on being a good listener and aims to provide the best possible professional advice, whilst ensuring each lesson is tailored and enjoyable for the golfer.
Why Coaching?
We're passionate about helping you play better golf.
Every golfer enjoys the game more when they're hitting good shots and playing well. This is our mission for you.
Think back to your last few rounds and try to pinpoint an area that cost you shots…
Maybe, you had too many three-putts as a result of poor distance control? Or did you miss too many fairways to the right meaning you had to chip out sideways? It could be that you play well in practice rounds with your friends but struggle to replicate that in competitions?
Through our experiences in the game and our PGA education, we appreciate that every golfer is different. That's why we offer a range of lessons and packages to suit everyone.
Lessons will cover:
Golf Fundamentals
Swing Basics
Short Game
Long Game
Course Management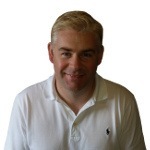 David Park - Head PGA Professional
I was born in Motherwell and was brought up in Wishaw, learning to play golf there with my dad, John. My lowest handicap was +2 and I won the Wishaw Club Championship on two occasions - in 1994 and 1996. I went on to represent Lanarkshire at boys, youth and senior Level. During my professional playing career, I play actively on the Tartan Tour. I have won various events over the years and some of the highlights were Scottish Assistants order of merit winner 2002, Clober Pro-Am winner 2006, Bahrain Open champion 2006 and most recently King Hamad Trophy winner 2009. On the work front, I started my career at the prestigious Turnberry Hotel. Moving on from there I worked at Clydeway Golf Centre, Wishaw Golf Club before taking up the post of Head Professional at Carnwath Golf Club. During the winter months from 1999 to 2010 I worked in Bahrain at Awali Golf Club. Most recently I have been working at Pumpherston Golf Club for the past two years, before taking up the opportunity to move back to my home of golf - Wishaw.
---